How to Win Winters in Toronto: A Fashion Guide for Female Real Estate Agents
03.01.19
Fact: there are over 53,000 real estate agents in Toronto.
True fact, Toronto has the largest Real Estate Board in the world! There are more licensed agents in Toronto than in New York, London, Tokyo, San Francisco and Sydney. These days, it appears that everyone's cousin, best friend, hair colourist and Uber driver is getting into the business. Hell, why not? You can be your own boss, work your own hours and you have unlimited income potential. Sign everyone up? Heck, yeah!
We're kicking off the year with a very telling tale about working real estate agents and how they dress day to day. And, we're talking about the agents with "the hustle". They're the ones that will do anything to get the deal done. It's the agents that drive across the city at 5:30 AM to plunge a toilet, and are first to volunteer to crawl through the creepiest of basements to check the electrical.
These are the working, female agents that care more about their clients than their hair extensions, ombré highlights or Instagram filters. You know who you are! We got our own game!
6 Winter Essentials for Female Real Estate Agents with Hustle
For all you female real estate agents hustling out there, we're sharing a fashion guide with our six winter essentials. Take a look:
1. Black and Puffy
Yup, an imperative part of the ensemble from North Face, Canada Goose or Mackage. If your working agent refuses to unzip their coat (even though they are dripping in sweat during rental showings), there is a reason why. Keeping reading for more insights on what's really going on underneath it all.
2. Our Comfiest Sweatshirt
So, the real reason your working agent doesn't want to reveal what's beneath her puffy jacket is because most of the time, she is wearing an inspiring hoodie underneath. And, I'm not joking – I've personally worn a heart-patterned pajama top underneath my puffy jacket. The rationale? An immediate TV and take-out sushi outfit upon arriving home at 10:00 PM. Remove coat, boots, and presto! We're ready to watch the latest episode of Colton on The Bachelor after a 15-hour day!
3. The Lululemon
There is a high possibility that your working agent is still wearing the tights she walked the dog in at 5:30 AM. Because, she hasn't had the time or inspiration to change. Or, she has managed to fit in a workout in-between showings and has found this outfit to be the best for multi-tasking purposes. Plus, no one can really tell that they are fitness tights right?
4. Not to be Captain Obvious, but…
It's absolutely freezing out there. In Toronto, there is nothing glamorous, fashionable, or even fun about hunting for a frozen lockbox on a chain link fence in sub-zero temperatures. These are my top must-have items to avoid being a total idiot agent. When I see someone wearing a pencil skirt and 5-inch heels in the middle of a snow storm, I know they must be new to the biz. Or, maybe they really don't have a clue?
5. Getting our Hair Did
Yeah, working agents don't do their hair. We just don't. There isn't enough time to wash, blow dry, and style. This takes hours and hours! So, we just take our messy ponytail and stick it into an Aritiza hat for some semblance of style and class. If we could write-off a blowout as a legitimate expense, I think more of us would make it happen!
6. The Accessories File
Okay, this is where the true part of the style guide is revealed. My personal must-have accessory list for working real estate agents will not be beat! Everyone needs a little de-icer spray in their bag right? You could also consider travel pack Kleenex, protein bars, aerosol tanning spray and one stylish hair elastic around the wrist.
The Working Real Estate Agent's Goal
So, the working agent's goal is to put together some sort of look that gives the illusion that we're pulled together. But, to be honest, we're more focused on booking showings, driving across the city in crazy traffic trying to find a semi-detached house under $800K (almost impossible btw), prepping for a listing appointment, or completing a market analysis. At the same time, we are trying to take care of our families, clean our houses, love our dogs and eat anything but a Bistro Box from Starbucks. So, our end game is inspired by this look below:
But, if we're being really honest and show our clients what we wear underneath it all, it would be something more like this: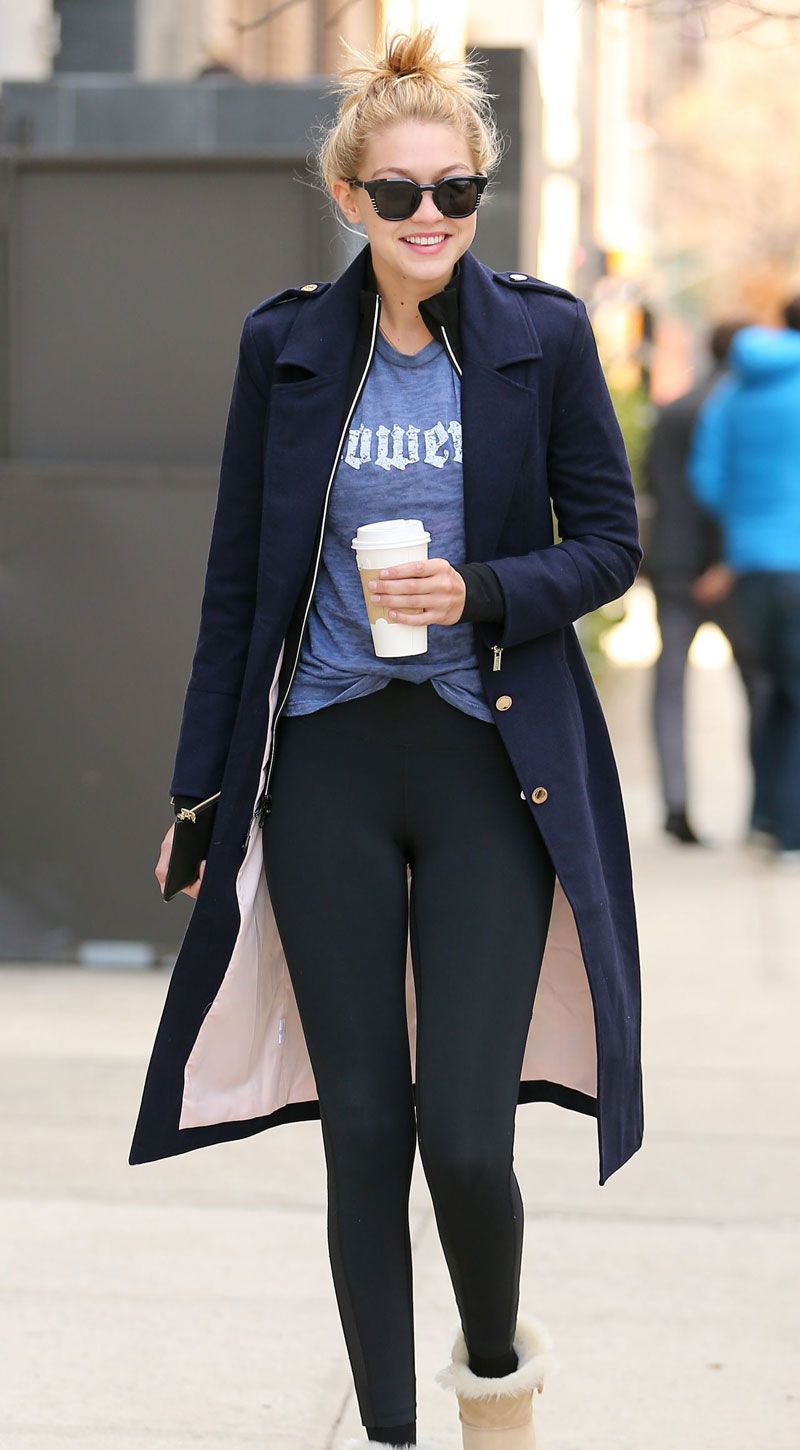 In summary, I am being a bit cheeky in this particular post, but I know…like I know...that my fellow working real estate agents with the hustle will be chanting hallelujah! from the sidelines reading this exceptionally fashionable and informative guide to surviving winters in the business. Enjoy!
—
This article is written by Kori Marin, Managing Partner and Broker at Fox Marin Associates. With a passion for Scandinavian design and all-things-Toronto, Kori brings her own brand of charismatic energy, creative integrity, and expertise to her work.
Submit a Comment